About the KCWC
The Kissing Camels Women's Club
…where neighbors become friends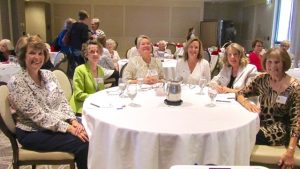 Founded in 2009 as a social club where women in the Kissing Camels community could get to know their neighbors, the Kissing Camels Women's Club has grown to include nearly 150 members who represent a diverse cross-section of our community.
The KCWC's monthly luncheons provide a relaxed social setting for women to meet new friends and catch up with neighbors while enjoying specially created menus and a diverse range of programs. Some programs focus on cultural or community topics while others are just plain fun. The KCWC also hosts evening socials and outings, allowing women who cannot attend the daytime meetings to enjoy events with their KCWC friends.
Apart from the membership meetings, the women's club also hosts special interest groups, which currently include a book club, gamers group, music club, and a needle arts group. The "Foodies" group introduces members to some of our area's most interesting restaurants, while the Day Trippers arrange outings to museums, wineries and other points of interest.  Members of the KCWC are invited to join any of these groups.
The Kissing Camels Women's Club is open to women who live within the gates of the Kissing Camels community, fill out a membership application and submit it to the Board with the annual dues. Women do not have to be a member of the Garden of the Gods Club to be a member of the KCWC. Prospective members are invited to attend up to two meetings or events prior to joining the club.
If you are interested in expanding your circle of friends, dining on good food, experiencing a range of activities with friends, learning new skills or want to share your special interests with your friends and neighbors, then join us and have some fun!
20
17/18 EXECUTIVE BOARD
President:                                   Sarah Roach 
Vice President / Programs and Menus:  Dorothy Kraemer
Co-Treasurers:                           Sherry Clarkin,Cheryl Johnson
Secretary/Parliamentarian:         Marianne Maloney
Membership Director:                 Kathy Jensen
Social Director/Special Interests Liaison:    Kathy Fuhs
Communications Director:          Chris Goosman
Board Assistants
Programs :                                 Vanessa Bivens-Peteet
Menus:                                       Karen Kunstle
Treasurer:                                  Linda Schroeter
Membership:                              Wendi Schield
Communications (newsletter):   Kathy Edwards
Social Director/Special Interest Liaison:  Kathy Medlang
PAST PRESIDENTS
2016      Ginger Hanson
2015      Tia Warren
2014      Candace Krauss
2013      Kathy Medlang
2012      Tonya Zeien
2011      Joy Ann Robinson
2010      Colette Hoelting
2009      Diana Maywhort
Click here to learn who served on our previous KCWC boards