KCWC/King Soopers Card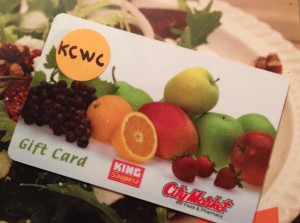 KCWC / KING SOOPER SHOPPING REWARDS
KCWC participates in a "passive fundraising" by raising additional money for our club through a partnership with Kroger/King Soopers stores.  It doesn't cost you anything…and it's easy!  
By loading money from your credit card, check, debit card (or cash!) onto your KCWC/King Sooper Gift Card, you still get your benefits from your credit card company on your purchase (such as airline miles and gas points).  When checking out after grocery shopping, simply use your loyalty card (as usual) to collect your personal shopping discounts and other benefits and then use the gift card for payment.  When you use this card at King Sooper or any other Kroger market, the KCWC earns cash rewards. 
There is no cost to participate in this program. Simply load and reload the card with as much cash as you like at the check-out counter and use it like a gift card to pay for groceries. You will continue to earn your credit card benefits
Where does the money go?  It helps with general the KCWC's operating expenses, such as stationery, paper and postage, plus our luncheons and honorariums, the summer party and other events…anywhere the additional funds are needed to make your experience better. 
Here's how you can participate:
Pick up your special KCWC shopping card at any monthly meeting for only $5.00 – your card will already be loaded with $5.00 on it. It works like a "cash gift card" but links to our KCWC account. Each time you shop our Club will receive a cash reward!
Reload your card by cash, check, debit or credit card (get credit card benefits.)

Pay with this KCWC cash gift card.

Reload $ when needed – even when you travel.

That's it. KCWC receives $250 (5%) for every $5,000 tracked through the program.
 Wasn't that easy?
If you want to know more, contact any board member.
Looking for information on other topics?
– Interest Groups – Hope and Home – Photos – Newsletter –